How do I send a Qualtrics survey from my @wayne.edu email address?
Share & Print
Your Wayne State Qualtrics account allows you to distribute survey invitations to a Contact List as if the invitations came from a Wayne State University email address. Using a recognizable Wayne State email address -- like yours, or your team's shared email address -- can improve the response rate for your survey. Additionally, survey invitations that cannot be delivered are returned directly to you, which will help you keep your Contact list accurate.
The Qualtrics mailer uses the following default settings:
You can override all three of these settings. As an example, if the defaults were changed to:
From Address:

cit@wayne.edu
From Name:

Computing & Information Technology

Reply-to Email:

cit@wayne.edu
then the Qualtrics mailer will look like this:

and the Contacts will get a survey invitation that looks like this: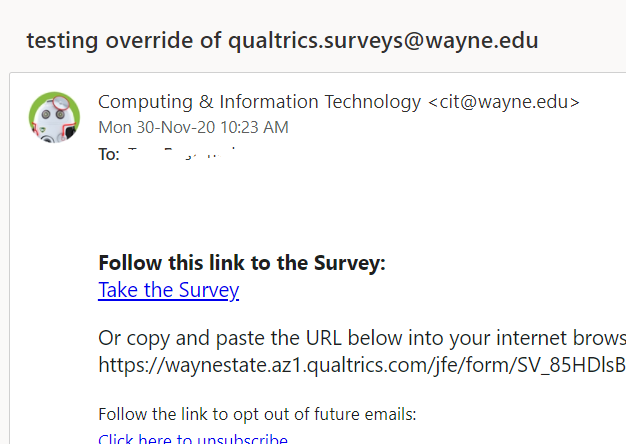 You can override the default settings with your personal Wayne State email address to get a similar effect. Either way, all replies from humans — as well as bounceback messages from email systems — will wind up in the Inbox of the From Address.
NOTE: to request a shared Wayne State email account for your team to use, just fill out a request for a WSU Group ID.
Need more help?