How do I use the File Upload feature in Qualtrics?
Share & Print
The Qualtrics File Upload feature allows respondents to upload a file along with their survey response. This question type allows surveyors to collect data that may not be available through standard surveying, like collecting resumes and other important forms, records or documentation.
Features
Users may include as many file upload questions in their survey as they wish.
Only one file may be upload per File Upload question.

File uploads must be smaller than 16MB.

For security reasons, executable files (e.g. those ending in .exe) are not allowed.

Respondents may upload multiple files through on File Upload question is they compress files into a ZIP file.

Users may restrict the type of file respondents upload.
Options
Follow the steps below to insert a File Upload question in a Qualtrics survey.
1. Create a New Project or open the survey you wish to add an File Upload question to.
2. Click Create a New Question.

3. Click Change Question Type.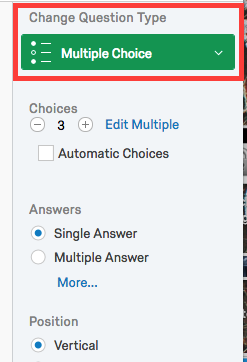 4. Select File Upload within the Advanced category.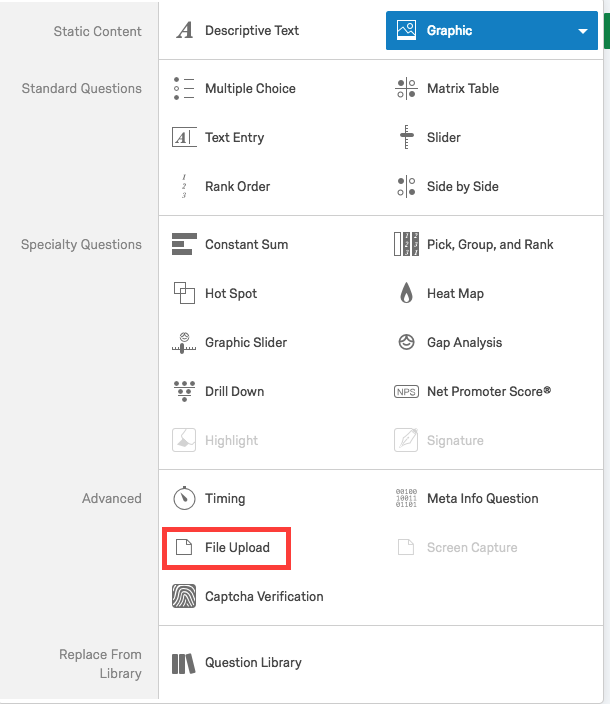 5. If you want to restrict the type of files that may be upload, check Content Validation and check the types of content you wish to restrict (e.g. if you want responders to upload a photo, you will want to restrict Documents and Spreadsheets).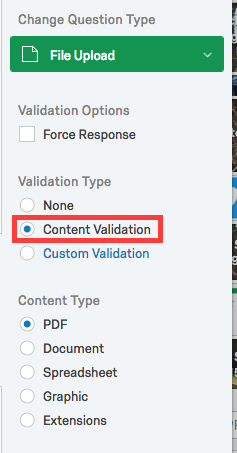 6. Write the question text and continue with the project as normal.

More information
Learn more about the File Upload feature at the Qualtrics Support website.