How do I collaborate with another Qualtrics user outside of Wayne State?
Share & Print
Wayne State University users may collaborate with another Qualtrics user at another organization if both users have permissions to allow collaboration outside of their organization.

Follow the steps below to collaborate on or share a survey with a non-Wayne State University user in Qualtrics. Follow the instructions at kb.wayne.edu/904 to collaborate with a Qualtrics user at Wayne State.
1. Log in to waynestate.qualtrics.com and click on the Projects tab.



2. Identify the survey you want to share and then click the dropdown arrow to the right. Click Share Project in the dropdown menu.



3. In the pop-up window, type in the email address of the person you want to collaborate with and click the Add button. Please verify that you have the correct contact information; username formats may vary based on different organizations, and while an email address may technically be correct and process, it may not be the proper username and therefore the survey will not show up for those you are collaborating with.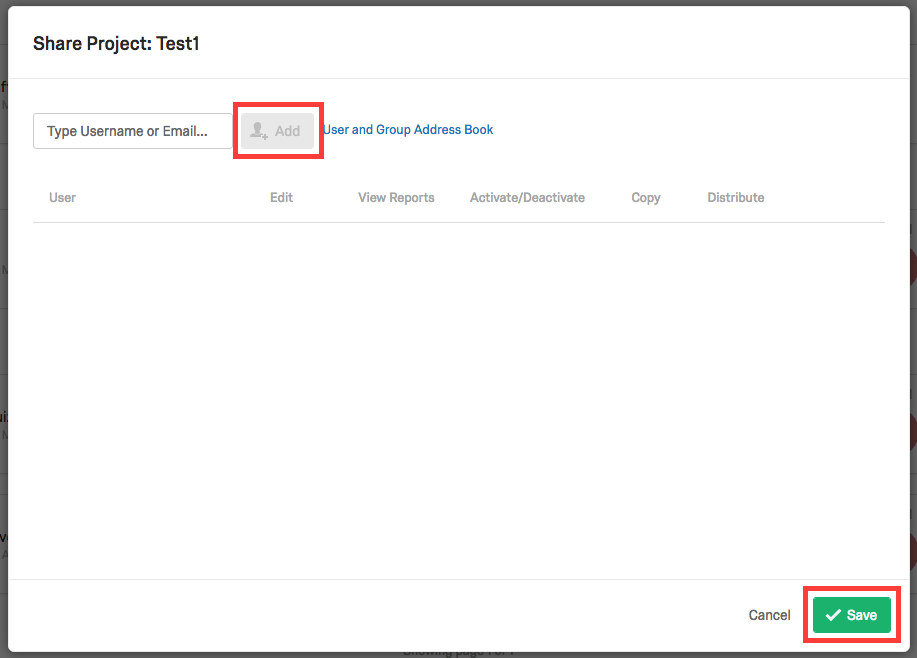 4. Choose the permissions you want to give the user and click the Save button.
5. Your colleague will receive an email invitation with instructions about Accessing Shared Surveys.
Need more help? The Qualtrics support website has a list of Common Questions about collaborating on Qualtrics projects.

NOTE: Qualtrics' free trial account is available to everyone, however, these accounts have limited capabilities. If you are planning to use Qualtrics to collaborate with someone outside of Wayne State, it's best if that individual has a paid Qualtrics account. If you have questions about this aspect, please contact Tom Duszynski at 313-577-5638.