How do I configure an unsupported email client?
Share & Print
If you use an unsupported email program to read and send email, please use the information below to configure IMAP or POP with your email client for Wayne Connect - Powered by Microsoft.
IMAP/POP settings
Incoming Mail (IMAP/POP) Server:

Server Name: outlook.office365.com

Use SSL: Yes

Port: 993 (IMAP) / 995 (POP)

Outgoing Mail (SMTP) Server:

Server Name: smtp.office365.com

Port: 587

Encrypted Connection: TLS

Outgoing server (SMTP) Requires Authentication: Yes

Account or User name:

Your WSU AccessID email address (e.g., xy6789@wayne.edu)

Email address:

Your WSU AccessID email address (e.g., xy6789@wayne.edu)

Password:

Your AccessID password
Gmail settings
If you are using Gmail to access your Wayne State email, we have found settings shown below work best. Be sure to use your full AccessID email address and note the custom POP server name: outlook-namnorth.office365.com. Wayne State recommends leaving a copy of your email on the Wayne Connect servers.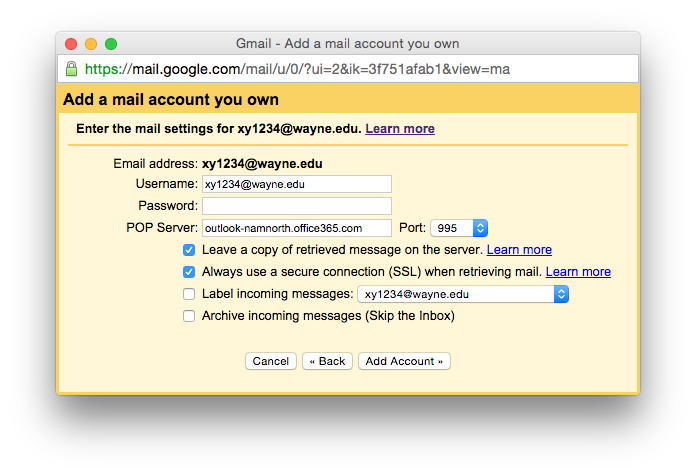 NOTE: The C&IT Help Desk only supports Microsoft Outlook and Apple Mail. These settings have not been tested with each mail program. For more information, refer to the following article: How do I get help for a non-supported email program?