How can I use the passcode function in Duo?
Share & Print
The Duo Mobile app can generate a passcode to authenticate your login when your phone does not have an internet connection.

1. Open the Duo Mobile app on your device.

2. Tap the drop down arrow next to Wayne State University. You will receive a code.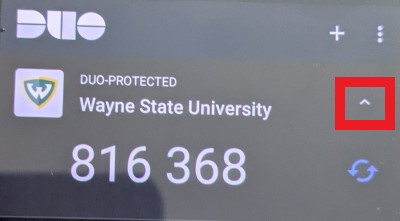 3. On your computer, click Passcode on the Duo authentication screen. Enter the code from the Duo Mobile app. Then click the green Log in button.