How can I change my video background in Microsoft Teams?
Share & Print
Microsoft Teams allows you to change your background during a video conference. Follow the steps below to change your background.
1. Join or start a Microsoft Teams video meeting.
2. Before joining the meeting, you will see a screen that displays your webcam.
3. Click the Background settings button.

4. A list of available backgrounds will appear on your screen. Click the one you wish to use.
Note: Steps to add custom images are at the bottom of this article.

5. You will see a preview of the background. Once you're satisfied, click Join now.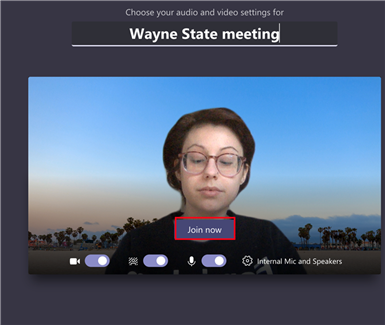 6. To remove or change your background settings during the meeting, click the … button.

7. Select Show background effects and select a new background or turn the feature off.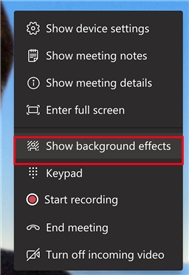 Adding custom images
Microsoft Teams has not officially introduced a way to upload custom background photos. Follow the steps below to add a custom background below.
Note: Mac users will need to join or create a meeting and use the virtual background tool before starting this process to get the correct folders to appear.
You can find custom Wayne State backgrounds at https://social.wayne.edu/zoom-backgrounds
1. Open your computer's file browser:
Windows:

Open File Explorer.

Mac:

Open Finder.
2. Find the image you wish to set as your background and copy it.
3. Access your Teams files:
Windows: In the top bar, type %appdata%. Press enter on your keyboard.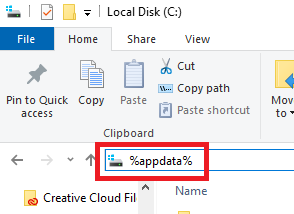 Mac: Click Go, then hold down the Option key. Select Library, then open the Application Support folder.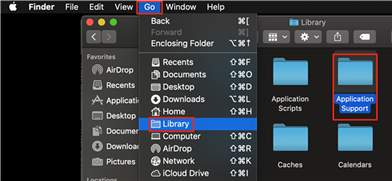 4. Click the Microsoft folder.
5. Click the Teams folder.
6. Click the Backgrounds folder. This folder will not show up for Mac users unless they have created or joined a meeting and used the virtual background tool since the update.
Windows: Click the Uploads folder and paste your image.

Mac: Paste your image in the Backgrounds folder.
7. The next time you open a Teams meeting, your custom background will appear at the bottom of the list.