How do I create and use a custom Email Name?
Share & Print
Wayne State University allows users to create an email name, which is a custom email address that may be used as an alternate to your AccessID or firstname.lastname address. For example, if your AccessID is xy6789, your name is Jonathan Doe and you choose John2000 as your custom email name, you may use any of the following as your email address.
xy6789@wayne.edu

Jonathan.Doe@wayne.edu

John2000@wayne.edu
Emails sent to any of the addresses will arrive in your Wayne Connect inbox.
How to change your email name
Follow the steps below to create and use an email name.
1. Log in to Academica and click Account Management under the Settings button in the upper-right (shaped like a silhouette).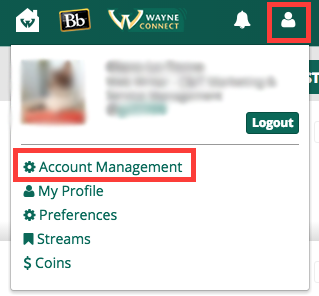 2. Click Custom Email Name.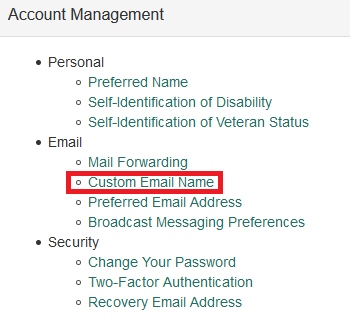 3. Type the email name you have chosen in the space provided and click Submit. If you are changing your email name, replace the existing email name. Your existing email name will be immediately abandoned.

4. The response will tell you if the name you've chosen has been accepted. If the name is accepted, you're finished. If the name is unavailable, the system will prompt you to try a different name.
Email name and WSU affiliated email
If you are using an email account supplied by the College of Liberal Arts & Sciences (address ends with @sun.science.wayne.edu) or any WSU department or division other than Computing & Information Technology (C&IT), the email name feature does not apply to that email address.
Mail sent to the old email address
As soon as you change your email name, the email address is deactivated and
the email name is made available. Mail sent to the address while it is
deactivated will be rejected. If somebody else chooses that Email Name they
will receive any mail addressed to that address. Your email name belongs to
you as long as you are have WSU email and do not change or delete it.
Logging in to WSU services
Your email name is meant to be a customized and personal email address. Continue to use your AccessID to log in to WSU services.
Email name requirements
The requirements for an email name as an alias for your AccessID are as follows:
Must be between 3 and 25 characters.

May only contain letters, numbers, periods, underscores or hyphens.

Is

NOT

case sensitive (e.g., John2000 is the same as john2000).

May

NOT

contain any blanks.

May

NOT

contain any offensive words or be the name of a University division, department or official function.

May

NOT

be intentionally misleading or confusing.
Note: Repeatedly choosing an offensive or misleading email name may result in discipline including loss of email name customization.