How do I securely encrypt a USB flash drive using Windows?
Share & Print
Encrypting a portable USB flash drive is a great way to prevent sensitive data falling into the wrong hands via data breaches and security incidents. This guide will demonstrate how to securely encrypt a USB flash drive within Windows so that the data stored on it cannot be read nor accessed without entering a secure password.
Requirements
This guide applies to encrypting a flash drive on Windows 7 Enterprise, Windows 7 Ultimate, Windows 10 Enterprise, and Windows 10 Pro using the built in encryption tool known as BitLocker.
Windows 10 can unlock a flash drive encrypted on Windows 7 and vice versa.

USB flash drives encrypted with BitLocker CANNOT be opened with macOS.
Follow the steps below to encrypt a USB flash drive within a Windows operating
system.
Insert your USB flash drive into your Windows PC.

Open

File Explorer

.

Right click on flash drive and select

Turn on BitLocker

.



You will be prompted on how you would like to unlock the drive. Select

Use a Password to Unlock This Drive

.



Enter and confirm a password in the spaces provided to unlock the drive. You can change this password later, provided you remember the original password.

When prompted

How Do You Want to Store Your Recovery Key

, select

Save the Recovery Key to a File

. Save this recovery file in a location of your choosing that only you have access to. Please note that this file does not contain your password.

If available, please select

Encrypt Used Space Only

.

Windows will securely encrypt your USB flash drive; it should only take a few minutes. You will be notified when it is complete. PIC3
How to use your newly encrypted USB flash drive
To securely use your encrypted USB flash drive, simply plug it into your computer. You will be prompted to enter the password you used to encrypt your drive.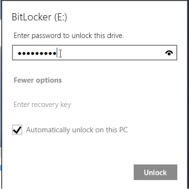 There is also an option to automatically unlock the drive on particular PCs if you so choose. Please be cautious when considering this option.
Windows will automatically manage encrypting and decrypting your information while it is plugged in to your computer. When you are done working on your data, simply unplug it from your computer.
How to change your encryption password
If you wish to change the password used to securely encrypt your USB flash drive, simply right-click on the drive inside File Explorer and select Change Bitlocker Password. You will be prompted for your old password, as well as a new password to use.

How to disable encryption
If you no longer wish to utilize encryption on your USB flash drive, you can permanently disable it. This action will remove the encryption and allow you to use the drive on computers that do not support Bitlocker, and will permanently stop securing the data on your USB Flash Drive.
To disable encryption, right-click on the drive in File Explorer and select Manage Bitlocker.

On the following screen, click on Turn off BitLocker for the drive you wish to remove decryption.

Once you confirm your action, Windows will remove encryption from the USB flash drive; this action will take some time. Once complete, you can remove your USB flash drive and use it normally without restriction.