How do I log in to Echo360 lecture capture?
Share & Print
There are two ways to log in to the Echo360 cloud platform, however, instructors must first submit a request in order to create an account to use Classroom Capture or Universal Capture through their Canvas course.
The preferred log in method is from your Canvas course via the Echo360 Recordings link. Instructors can use this link to log in to the Echo360 platform to download Universal Capture software and manage recordings (review, upload, edit, share, etc.). Students will use this link to review class recordings.
1. Login to Canvas at canvas.wayne.edu.
2. Navigate to the course where you want to access Echo360 recordings.
3. Click Echo360 Recordings in the course's Navigation Panel.
4. Instructors may also log in directly from the Echo360 login page.
5. Open browser and navigate to echo360.org.
6. Enter your Wayne State email address and click Submit.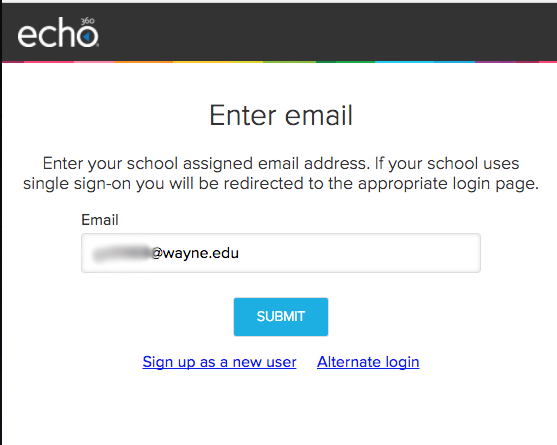 7. If prompted with the WSU login page (login.wayne.edu), enter your AccessID and password.
More information
Learn more about Echo360 lecture capture at tech.wayne.edu/kb/academic-services/lecture-capture/268816.