What is the Echo360 Library and how do I manage content?
Share & Print
The Echo360 Content Library is used to store all recorded, shared and uploaded content. All content owned by the instructor can be selectively shared with individual colleagues or students, or shared with a Canvas course.
How do I manage content in Echo360?
From the Echo360 Content Library, instructors have options to Upload files, Edit Media, or View, Share or Delete recorded content.
1. Navigate to echo360.organd use your AccessID@wayne.edu(e.g., xy1234@wayne.edu) to log in to Echo360 to view the Home Page of your Content Library.
2. The Courses tab shows a tile for all the Echo360 courses you are enrolled in. Use the Search Courses, Sort by, and Filter options to find a course you want to manage.
3. Click a course tile to view class recordings, manage course Settings, or view Analytics.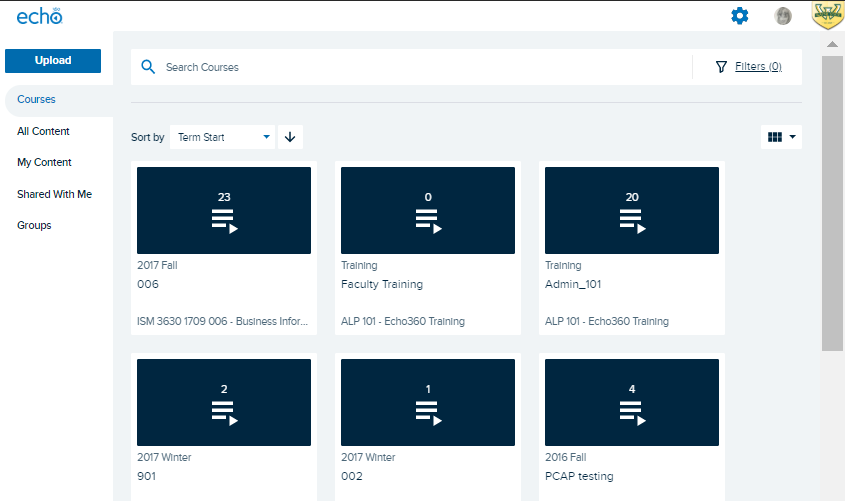 4. Click the Echo360 logo in the top left corner any time you want to return to the Home page.
5. Click the All Content tab to view a collection of all of your videos and presentations, including items from My Content (media you own) and Shared With Me content (media someone shared with you).
Click on a media tile to open the Content Details page where you can view recordings or slide presentations, as well as perform the options shown below.

You can also hover over a media tile and click the Menu button mid-right to show available management options. Select the desired option, then follow the screen prompts.