How do I apply for or check my financial aid in Academica?
Share & Print
Follow the steps below to apply for or check the status of financial aid services in Academica.
1. Log in to Academica.
2. Find the WSU Resources box on the left-hand side and click Student Resources.
3. Click Financial Aid in the dropdown. You will now see a variety of options.
My Overall Financial Aid Status:

View overall status, academic progress, cost of attendance, financial aid awards and read messages.

My Financial Aid Requirements:

Review Financial Aid and document requirements (which may prevent payment of awards), display academic progress, and view your unofficial academic transcript and Institutional Holds.

My Award Information:

View account summary, awards by aid year, accept award offers by aid year, review award history, display award payment schedule and view history of loan applications.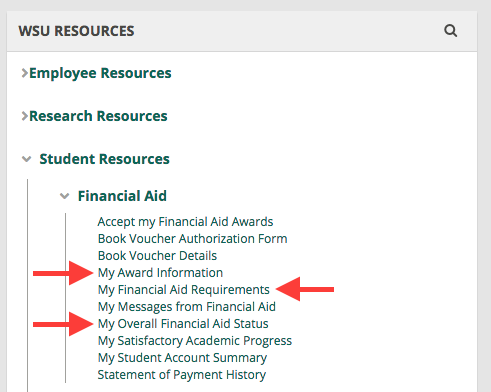 Related: