How do WSU students check their schedule on Academica?
Share & Print
Follow the steps below to find your class schedule on Academica.
1. Log in to Academica at a.wayne.edu.
2. In the WSU Resources box on the left-hand side of the page, click Student Resources.
3. Schedules are available in the Registration sub-menu. Select Registration portal.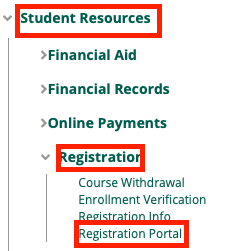 4. Click View registration information.

5. You will now be able to view this semester's schedule and any past schedules.