Banner Workflow 8.8 updates
Share & Print
Banner Workflow was upgraded March 15, 2020.
Users can expect a refreshed look, improved navigation, and advanced search features.
Improved navigation
The new navigation will feature expanding menus, helping you find what you're looking for quicker and giving you more screen space.



Advanced search filters the user's worklist
The Workflow upgrade will give you access to advanced search features, such as organization, activity name, priority, and more.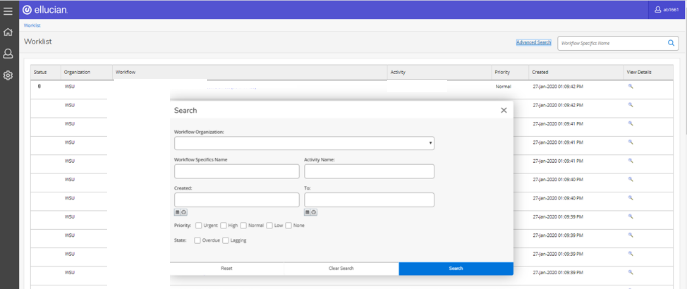 Scroll bars may be at the far right of your screen
The upgrade prepares us for mobile solutions that can be processed on devices with small displays. If viewing an existing workflow custom form like grade change or course withdrawals on a device with a large screen, the scroll bars will appear at the far right.
Continue to use the Workflow Status Search from Home menu to search all workflows.