How do I enable pop-ups in my web browser?
Share & Print
Pop-ups may be enabled in your web browser. Follow the steps below to enable pop-ups in Firefox, Safari or Internet Explorer (Google Chrome is not recommended as it cannot be used for all activities).
Firefox
1. Click the Settings icon in the upper right hand corner of the browser window.

2. Choose Preferences or Options.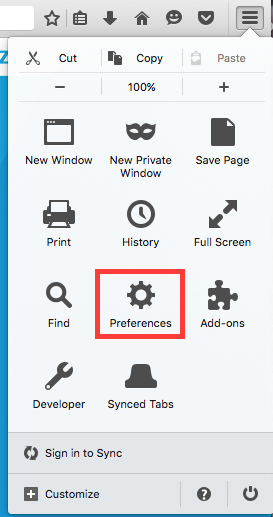 3. Click on the Content tab on the left side of the new browser tab.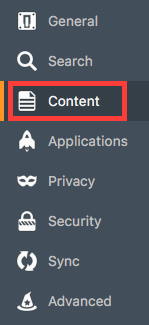 4. Click the Exceptions button on the right side next to Block Pop-Up Windows.

5. In the Address of Website field, enter the web address of the site or page for which you want to allow pop-ups and then click Allow.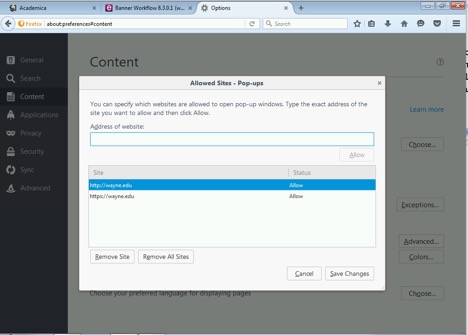 6. Click Save Changes and the sites will thereafter be allowed to create pop-up tabs and windows.
Safari
1. Open a new window. In the top menu, click Safari and then click Preferences.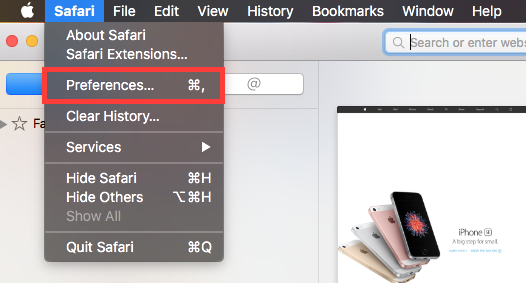 2. Click on the Padlock icon.

3. Un-Check the box next to Block Pup-Up Windows.

Internet Explorer (single computer)
1. Open a new window in Internet Explorer and click the Tools button (the gear icon)and then click Internet Settings.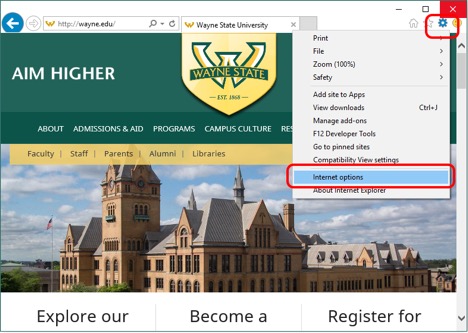 2. In the Internet Options window, click on the Privacy tab and then click Settings under the Pop-Up Blocker section.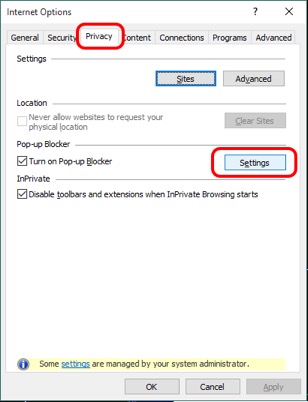 3. Enter *.wayne.edu in the Address of Website to Allow field and then click **Add**.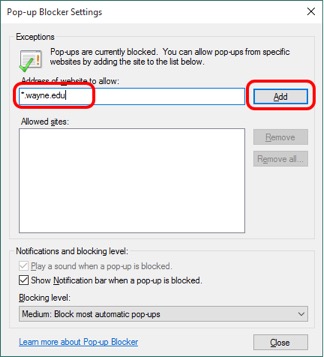 4. *.wayne.edu is now featured on the Allow Sites list. Click Close and exit out of all the dialog boxes.
Internet Explorer (multiple computer)
1. This may also be done via Group Policy. You may choose either a computer or a user policy, as the option will be available both ways. In the Group Policy Management Editor, look under Computer Configuration or User Configuration and go to Policies/Administrative Templates/Windows Components/Internet Explorer and open the policy named Pop-Up Allow List.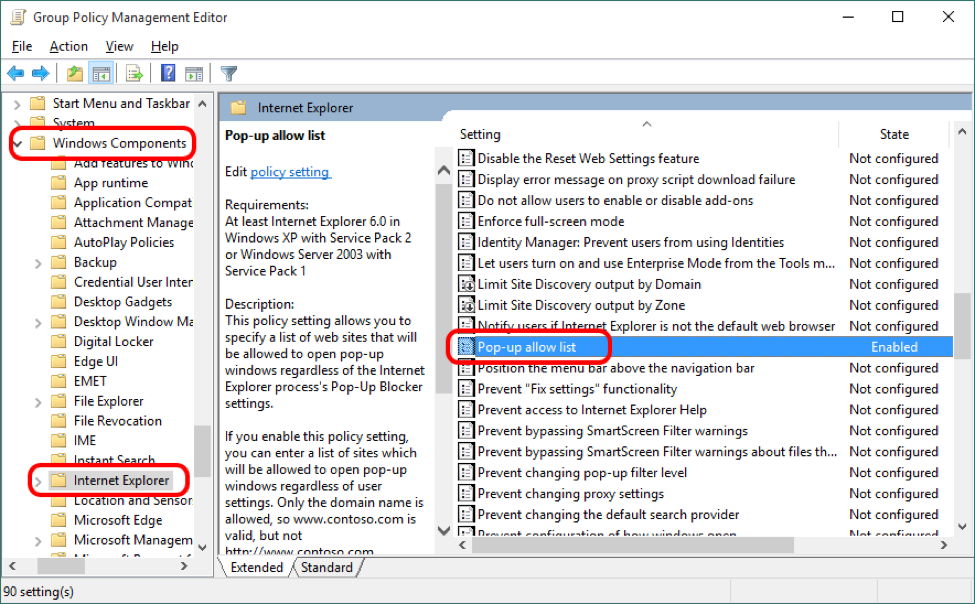 2. Select Enabled and then click Show.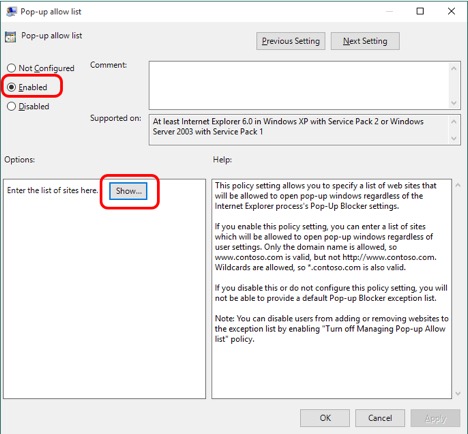 3. Enter *.wayne.edu as a value and then click OK. Apply the GPO to the Computer or User Objectives in Active Directory.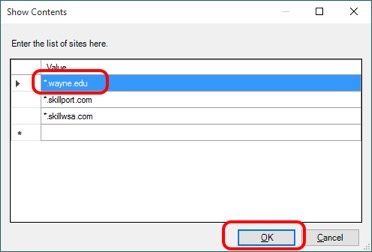 Google Chrome
1. Click the three bars on the right side of the browser (customize and control Google Chrome) and Select Settings.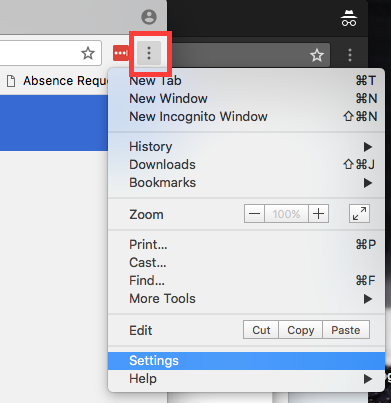 2. At the bottom click Show advanced settings...

3. Scroll down some more to find the Privacy heading and click Content settings...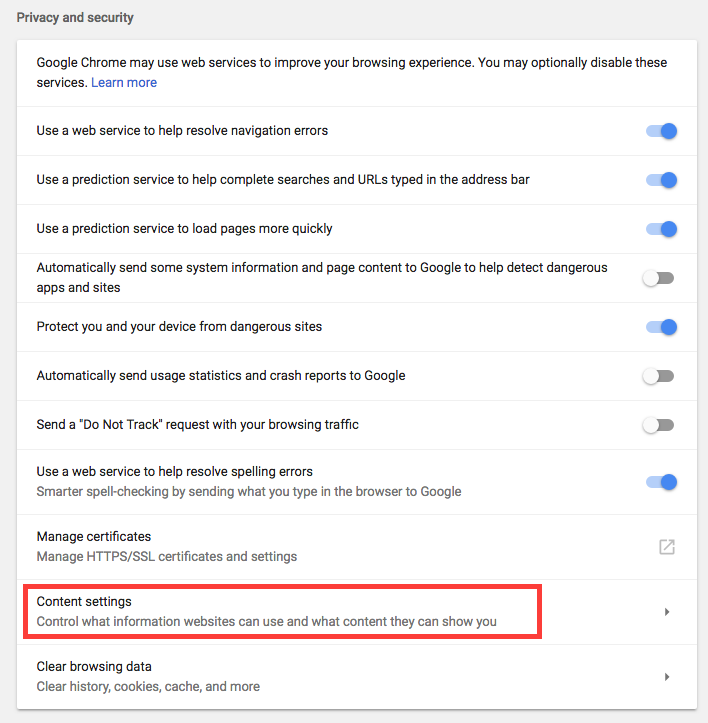 4. Scroll down to the pop-ups section and either click Allow all sites to show pop-ups.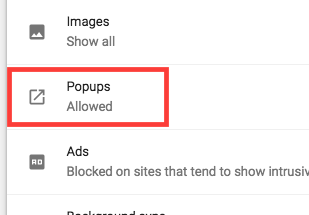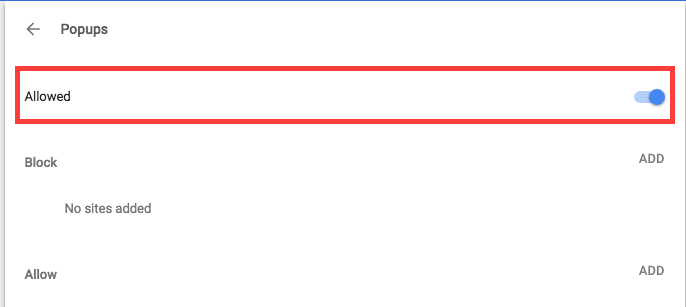 5. Alternatively click Manage exceptions and type in https://[*.]wayne.edu.
NOTE: These instructions were written using the most recent versions of each browser at the time. Your experience may differ depending on browser version. Please contact the C&IT Help Desk for further assistance.