How do I log in to Banner?
Share & Print
In order to log in to Banner, you must have been approved for Banner access. Find information regarding Banner access at https://tech.wayne.edu/enterpriseapps/access.
Banner is accessible via Academica using the main campus and School of Medicine wired networks, WSU-Secure wireless, and using the WSU VPN. Log in to Academica and click Employee Resources > Administrative Systems > Banner > Banner-Login to log in.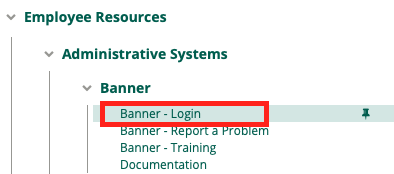 Notes
Banner is accessible from any browser - no Java required - and is fully compatible with tablets and smartphones.

Banner has updated security to protect employee and student information and you will be required to use

two factor authentication

to verify your identity when you log in to Banner.

You can open Banner in multiple tabs without logging in again. Due to the improved security measures to access Banner, we can now allow you to open Banner in multiple tabs to get your work done more efficiently.

If your Banner session times out, you only need to enter your AccessID and password to resume your session.

To open additional Banner sessions in your web browser, go to Academica and repeat the step above. You won't have to deal with Duo unless you closed all of your Banner tabs.

If you see error messages, please contact the

C&IT Help Desk

to report the issue.

Banner access is only available from Wayne State networks or via the VPN.