How do I setup and use Two-Factor Authentication?
Share & Print
Two-factor authentication adds a second layer of security to your online accounts. Verifying your identity using a second factor (like your phone or other mobile device) prevents someone other than you logging in with your credentials. Two-factor refers to using a smartphone or other device to verify your identity in conjunction with logging in with your Wayne State University credentials.
Find frequently asked questions at tech.wayne.edu/kb/security/two-factor-authentication/160520.
Setup
NOTE: To setup two-factor authentication for the first time, log in to Academica and click the Settings icon. Then, click Account Management and select Two-Factor Authentication.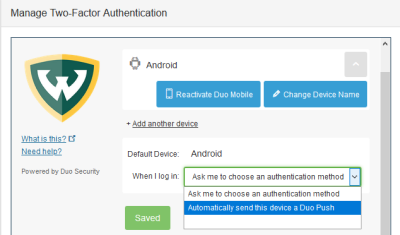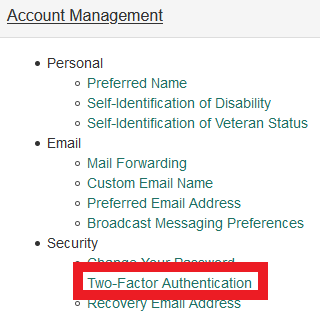 1. When prompted, enter your AccessID and Password and then click Submit. When you see a message that says, "Protect Your Wayne State University Account," click Start Setup.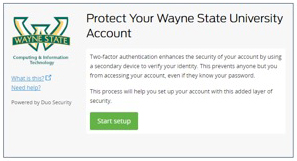 2. On the Two-Factor prompt page, the wizard will walk you through setting up your mobile device. For more specific information and to see information for your mobile device, see the guide from Duo Security at guide.duosecurity.com/enrollment.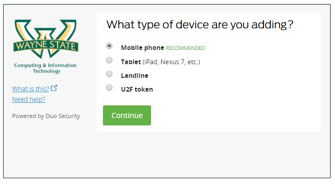 Using two-factor authentication
Two-factor authentication may be utilized through push notification approval.
Search for and download the Duo Mobile App in your app store. Through this app, you can approve logins through a push notification or receive a passcode by tapping Wayne State University.
If you do not have a smartphone or tablet, the following options are available:
NOTE: Learn how to manage Two Factor Authentication with Account Management in Academica on the C&IT Knowledge Base at kb.wayne.edu/238839.